*This post originally appeared on Jessie on a Journey. A big thanks to the Nepal Tourism Board, the Pacific Asia Travel Association and the Impact Travel Alliance for sponsoring my trip! Note: I recommend hiring a guide through a sustainable tourism company for this trip, which you can book here. This is an affiliate link, and there are other affiliate links in this post. I only recommend brands I genuinely love and think you will, too!
---
I'd never heard of the Mohare Danda Trek, a lesser-explored Annapurna Region trekking route. But it only took seeing a few photos from the hike for me to be on a plane to experience this incredible Nepal adventure.
The drive to Pokhara is long but scenic.
Colorful trucks driving cement, and sometimes tourists, create congestion as we drive — more like crawl — out of smoggy Kathmandu; city slowly easing into mountainscape.
Along with pulling over for coffee, we stop for a quick white water rafting trip down the Trisuli River, a tributary of the Ganges in India.
Hey, Nepal is the land of adventure.
PSST, DON'T FORGET TO PIN THIS POST FOR LATER!
Our guide, Kumar of Adventure River Trails, gives us a very brief introduction, showing us four simple commands as well as how to hold the paddle.
Then, in no time at all, we're off.
Soon a rapid appears in the near distance. I'm brought back to white water rafting in Costa Rica and the in-depth safety briefing we had.
"Does anyone know what to do if we fall out?" I ask. Everyone's eyes widen.
But it's too late to talk logistics, as our boat nosedives into the rapids.
Soon, our once-dry shorts and t-shirts are drenched in chilly water, though we emerge laughing.
"Again! Again!" the group shouts.
If you haven't gathered yet, this is definitely a trip you'll want travel insurance for.
It's a gorgeous hour-and-a-half of maneuvering rapids while being hugged by mountains — at least mountains to me, though my Nepal tour guide, Gopal, calls them hills.
"To be a mountain it must have a snowy peak," he smiles. Different definitions, I guess.
At one point we raft past the Nepali army practicing their shooting. They pause to let us pass.
The adventurous Nepal trip ends in Mugling, where domestic tourists flock to visit the Manakamana Temple via gondola.
The site — as well as the view — must be spectacular, but we've got over two hours of driving left before we reach our destination of Pokhara, with a quick bite to eat with a view at Santa's Restaurant. Yum!
White water rafting in #Nepal? Talk about an #adventure!
Nepal Adventures In Pokhara
The drive to Pokhara — Nepal's second-largest city after Kathmandu — is extremely windy, so I sit in the front to calm my sensitive stomach. Motorbikes and buses try to pass us constantly, making my driver swerve more.
I try to nap while also clenching my thighs to keep from sliding off the seat as we twist and turn. Not surprisingly, sleep doesn't come.
Luckily, I have the surrounding hillside to distract me.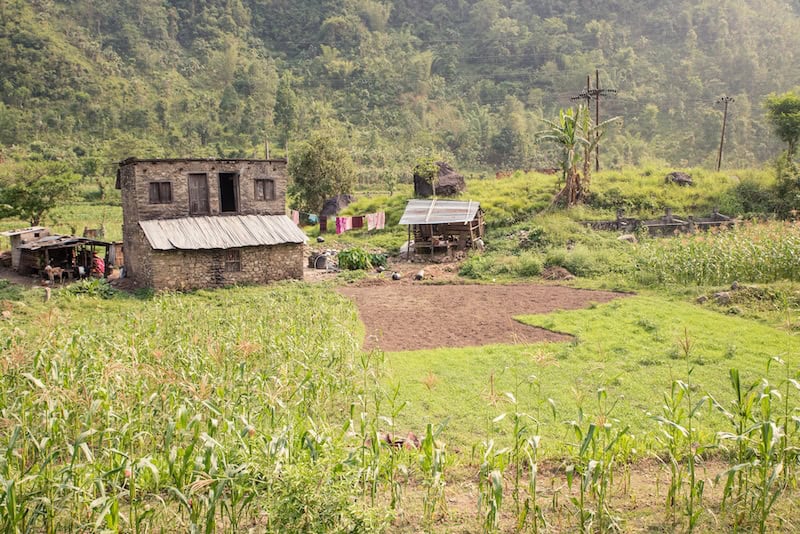 I also love passing through the towns, seeing the brightly-colored loose-fitting clothing of the local women as they stroll out of shops that sell bananas, momos, and Coca-Cola.
Teenagers walk in light blue school uniforms holding handkerchiefs to their faces to keep away dust kicked up by passing vehicles.
Across the road, Mother Nature has sculpted the hillside into fruitful terraced land.
It's clear when we've reached Pokhara, not only because we drive through a large gate, but because broken gravel and dirt roads become fashionable lanes lined with shops and potted plants.
As I wander the main thoroughfare, Lakeside Road, I get the impression Pokhara is a hippie town. Organic cafes, vegetarian eateries, and smoothie stands sit alongside stores selling singing bowls, gemstones, Nepali handicrafts, and women-made woven bags.
Along with conscious shopping and eating, you can walk to the enormous Phewa Lake.
Here, locals fish and visitors sit at al fresco eateries sipping fresh juice or Nepali beer.
On a clear day, it's nice to take a quick boat ride to the Tal Barahi Temple or the Shanti Stupa (World Peace Stupa) for incredible views, though the vistas right from Phewa Lake's shore are lovely enough to energize me for my upcoming hike.
Trekking is the main reason people visit Pokhara, known for being the first and last stop for hikers heading out into the Annapurna Trekking Region.
It's the perfect place, too, as on a clear day you've got a front-row view of the stunning Annapurna Mountain Range.
Bonus:
Spas abound, and a massage is the perfect way to begin or end a trek in Nepal.
There are so many adrenaline rush opportunities in Pokhara, too, whether you want to zip line, book a paragliding tour or bungee jump among stunning scenery.
I've bungee jumped a number of times and have gone paragliding in Medellin.
And while I've also zip lined many times, I've never done it while staring out at the mountains of Nepal.
Oh, plus Pokhara is home to one of the most extreme zip lines in the world, the Zipflyer.
The thrill features a 5,906-foot-long zip line with a 56-degree incline and a 2,000-foot vertical drop that propels you up to 75 miles-per-hour!
Jumping off the platform is a rush unlike any zip line I've ever done, though the vistas calm me and make me smile as I remember the Mohare Danda Trek begins soon.
Tomorrow, I'll be hiking through the jaw-dropping Annapurna Himalayas.
Mohare Danda Trekking Video
Before reading on…
Watch the video above!
You'll be able to come along on the trek with me for a first-hand perspective. Transport yourself to the Annapurna Himalayas and leave all your stress behind as you meet locals, yaks, buffalo, and high peaks.
After viewing, continue reading the post.
Love #adventuretravel? This blog post + video proves #Nepal should be on your bucket list!
Nepal Trekking Routes: Why You Should Choose Mohare Danda
When it comes to Nepal trekking routes, it's tough to go wrong in terms of gorgeous scenery.
The problem:
Many visitors opt for the same Nepal hiking trip, such as the popular Poon Hill trail.
This keeps tourism dollars from spreading to other parts of the country that could benefit from the income.
Which is where the Mohare Danda route comes in.
It's one of the newer hiking paths in Nepal, opened in 2010 to help support and develop the Parbat and Myagdi districts.
While taking in mountain views from the Annapurna foothills, you'll immerse yourself in rural village life in Nepal. Actually, this hike is nicknamed the "Eco Community-Lodge Trek".
Is it luxurious?
Not at all.
But it is a sustainable tourism option that lets you see areas of Nepal rarely accessed by tourists.
Honestly, I did not see a single hiker on the trail aside for the others in my group.
How cool is that?
Mohare Danda Trek: Setting Off Into The Annapurna Trekking Region [Day 1]
If you enjoy crazy trip stories, this travelogue is for you.
The drive to Galeshwar, where we begin the Mohare Danda Trek through the Annapurna foothills, is five hours.
Exiting the city of Pokhara, paved streets turn into piles of rock and stone shards, our van bottoming out numerous times with a loud grinding sound.
Against a pristine green sloped backdrop, locals maneuver around the rock piles and work on the road, many wearing face masks for protection from the thick dust in the air.
Women in flowing garments scrub cement entrances, while sacred cows seem to graze on the pebbles in the road.
We stop for a quick lunch in Nayapul, where those doing the Poonhill Trek start their hike.
The meal is dal bhat, the national dish of Nepal. It consists of boiled rice and a side of lentils as well as vegetable curry, greens and/or spicy pickled vegetables.
I'm not sure if it is the meal or something I'd eaten prior, but I immediately start getting nauseous as well as feverish, and the bumpy ride doesn't help. Honestly, it's the bumpiest ride I've ever experienced in my life, to the point where I feel like my organs are banging together.
I whimper constantly during the long journey to Hotel Riverside in Galeshwor, where we grab drinking water and set off from.
But not before I'm sick in the bathroom.
Wiping vomit and sweat from my face, I realize this is going to be a gorgeous but painful trek, though an experience to talk about.
I order a Sprite and water from the woman in the hotel restaurant, and we begin the almost-entirely-uphill climb toward the village of Bas Kharka, where we'll be staying for the night.
The trek is three hours, almost entirely uphill over stone steps.
It's a tough hike on its own, let alone with a fever, though the snow-capped peaks keep me going, reminding me how fortunate I am to be trekking in a country home to eight of the world's 14 peaks higher than 8,000 meters.
The Annapurna Mountain Range in the Himalayas is well-known by those who love hiking. Showcasing peaks of varying sizes, its most prominent points are Annapurna Massif at 8,091 meters (26,545 ft) and Annapurna II at 7,937 meters (26,040 ft). There is also the 8,000-meter (26,247-foot) giant, Dhaulagiri.
Trekking the Mohare Danda not only immerses us in this natural beauty, but introduces us to local Nepal culture.
We hike past orange and plum trees, through small villages where children wave and smile.
It really is an incredible, albeit physically challenging experience.
And when I suddenly vomit up curry, I have to admit I feel a lot better.
I feel even better when we complete our 300-meter elevation gain and settle into the Baskharka Community Teahouse.
It's a simple room with two beds and a squat toilet, and after a ginger honey lemon tea, I go straight to bed, skipping dinner in an effort to break my fever.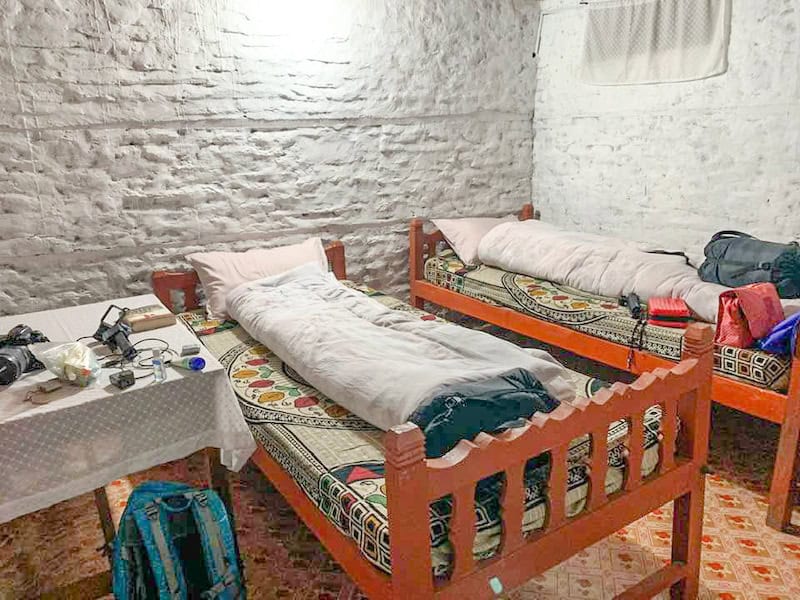 Annapurna Region Trekking In Nepal From Bas Kharka To Nangi [Day 2]
Luckily, it does break.
Which is a very good thing because today's section of the hike from Bas Kharka to Nangi is seven hours long, with an elevation gain of 700 meters, taking us to 2,300 meters total.
In the morning over breakfast, I'm able to really appreciate the view before we set off, uphill again.
Luckily I'm feeling a lot better, albeit weak.
Actually, during breakfast, two people in my trekking group announce they'll be turning back with one of the porters. I have an opportunity to head back to Pokhara with them, where doctors and clean private bathrooms abound.
It is tempting in my ill state, but I remind myself how far I've flown to do this very trek in the Annapurna Himalayas. I know that if I turn back I'll be devastated.
And so, loaded up on meds, I continue on.
Once again I'm needing to really use those mountain views to propel me forward, the gorgeous peaks as well as the subtropical rainforest scenery helping me forget my pain.
It's about two-and-a-half hours into the trek when I see the most beautiful sight:
Flat ground!
And not only flat ground, but stunning terraced hillside dotted with traditional Nepalese houses showcasing slate roofs and mud and stone construction.
We're in Dandakateri Village, where locals grow potatoes, corn, and rice in the clouds, living far away from modern conveniences and grocery stores.
At one point the porters take a break to pick high-altitude berries for a snack, offering me a few. They're juicy and delicious and get me excited for lunch.
We pass locals walking goats and even a dog we name Mohare, who decides to trek with our group for a bit. He's incredibly playful and we end up snuggling on the ground for a much-needed hiking rest.
It's just a bit longer — we cross a bridge alongside a humongous boulder — until we finally come to Danda Kaske Village, where we stop for a meal of macaroni, chow mein and dal bhat.
These three food options are quickly becoming our staple diet.
From here, we have a stunning view of the Mohare Danda hill — where we'll hike to tomorrow — as well as Dhaulagiri, the 7th highest mountain in the world at 8,167 meters, and Gurja Peak, which is also high at over 7,000 meters.
While we wait for our lunch, the porters convene to play a typical Nepalese board game, carrom, which is similar to pool, but instead of balls there are small checker-like discs to get into side pockets.
After playing, our group sits outside to eat.
It's tough to get up from our chairs as we soak up the sun and the view, but we've got more trail to cover.
Luckily, the path is flatter now and we can really enjoy the scenery without crying in pain.
At one point, two goats come up to our group, playfully jumping around.
They're adorable, and we spend so much time petting them that we add another 30 minutes to our trek.
We also see domestic buffalo grazing on the hillside.
One of my favorite views is walking across a long metal suspension bridge connecting two sections of the Annapurna Mountain Range.
We hike up, down, forward and up again, until we finally reach our destination for the night, the Nangi Community Lodge.
The rooms sit side-by-side in a small compound.
They're simple and clean, with a communal western toilet on the end. There are even hot showers for 150 Nepalese Rupees (~$1.34 USD), the only shower option on the trek.
After two days of hardcore trekking — as well as getting sick and having a fever — I'm thankful to finally feel clean.
I pass out for about two hours and wake up right before dinner.
To my amazement, the clouds have parted and the mountains are now in view.
I can see Annapurna South and Baraha Shikhar so clear and close that I feel like I can walk right up to them.
It's the perfect way to end an evening hiking the Mohare Danda Trek in the Annapurna foothills.
Hiking In Nepal & Reaching The Mohare Danda [Day 3]
I'm soon realizing there are two types of fun.
The first type is the obvious kind where you have fun in the moment.
The second is where you struggle through an experience, and realize afterward how thankful you are for it.
I was starting to realize that the Mohare Danda Trek was the second type of fun, especially as Day #3 begins with hiking up steep steps yet again.
Today would also be challenging because we'd be hiking seven hours — including lunch — mainly uphill and gaining an elevation of 1,000 meters.
The dog from the previous accommodation, who we learn is named Sētō ("White" in the Nepali language), accompanies us on this journey.
He's like an emotional support pup, letting us pet him when we need an energy boost.
Additionally, he makes a great Instagram model, as you can see here:
This section of the trek makes it very apparent our group is now trekking in an alpine landscape.
We hike through wide meadows filled with alpine flowers before dipping into the wet mossy pine and hazelnut forest.
This pattern continues, getting more beautiful as we go along.
In the meadows, we come across domestic buffalo grazing alongside gorgeous layered mountain views.
On the other hand, the forest reminds me of the kind the Keebler Elves would live in, with incredibly tall trees punched with holes leading to who knows where.
One interesting tree type we see is lokta, which locals make high-quality paper out of.
In fact, at the previous Nangi Community Lodge, they can set you up with a paper-making class in the community.
We climb up root steps, under hanging moss and over shiny stones, maneuvering our bodies through circular shapes that look like doors into other worlds.
Every now and then, an opening in the trees reminds us that we're in Nepal, the land of enormous mountains.
We pass a quarry located on a cliff ledge, soft tufts of grass billowing in the breeze, and the most gorgeous viewpoint when we reach the community of Hampal Danda.
Mountain after mountain after mountain can be seen as the group sits on a giant grassy patch enjoying the sun. Clouds float toward us like balloons we might be able to pop.
As we continue on, domestic buffalo graze within reach.
Lunch is much needed, as the group throws their backpacks onto a picnic table and collapses. Today we're at a makeshift restaurant, and Gopal has arranged to have heaping plates of fried rice and macaroni.
After lunch, we continue ascending into fairytale forest, flycatchers and green-tailed sunbirds creating a soundtrack for the walk.
We pass rhododendrons and juniper, which Gopal tells me locals use to make incense.
This is also when the altitude really starts to hit me, as we're now over 3,000 meters.
I'm in awe of the landscapes, especially the times when I'm in the open air surrounded by peaks.
But, I am also quite dizzy.
I slow down, sipping water frequently. The positive side of this is I can really enjoy the scenery.
Finally, just before camp, it starts drizzling. This is also where the day's most epic view sits.
We're almost at Mohare Danda, and I've truly never seen this many mountains carved into one another.
Staring out from the cliff ledge, I feel they are melodic yet crescendo-ing, as you feel at peace while viewing them but you are also moved by the magnitude of each peak and every textured slope.
By this point, we are starting to feel at home in the mountains, and we decide to name one mound that truly looks like the face of a "Sleeping Warrior".
Do you see it? Or am I just high on altitude?
My legs are jelly by now, though I'm able to push myself the final 10 minutes uphill to reach our accommodation for the night:
The Mohare Community Lodge atop Mohare Danda at 3,313 meters — our goal destination!
I almost kiss the ground, but instead take a few photos near the Mohare Danda sign — proof I've made it — with views of epic peaks in the distance.
The Mohare Danda Trek in #Nepal's Annapurna Himalayas offers high-altitude #hiking at its finest. Just check out these photos for proof!
Descending Into The Annapurna Foothills [Day 4]
It rains heavily during the night, which means no sunrise.
But what we do see is fog rising up over rolling hills in the Annapurna Range.
It's ominous but gorgeous and gets me excited to set off on today's hike.
On a clear day, you can also see Phewa Lake all the way out in Pokhara.
From left to right, I can see Dhaulagiri, Gangapurna, Annapurna South, Machapuchare (aka the sacred Fish Tail Mountain you cannot climb) and Lamjung Himal.
The view is nothing short of incredible, especially as ravens glide gracefully in the foreground.
After a cup of ginger lemon tea around the fireplace, I collapse into bed to rest.
It's been a thrilling albeit exhausting day, and I know I'll be needing my strength for the next one.
I'm so tired I barely notice the spiders crawling in through the openings in the brick wall, though I do use my sleeping bag to wrap myself up like a caterpillar and ease my fears.
Today we are descending down to Tikot Village, and the trek begins with hiking through mud and over slippery rocks.
The shiny mica sparkles even in the dark forest.
Soon we see a pack of yaks grazing, their doe-eyed expressions make their pointy horns look less ominous.
The alpine scenery is lovely, though hiking in June — the beginning of monsoon season — means something unpleasant for the forest:
Leeches!
And a lot of them.
Our group stops to photograph small waterfalls and streams, and a rhododendron forest filled with slender trees and twisted roots that looks straight out of a horror movie.
But every time we stop, we find leeches burrowing into our sneakers and socks.
Luckily, Gopal is carrying a small sack of salt, which he rubs on our trekking shoes to make the leeches drop off.
The mountain views and alpine flowers in the meadows we cross are also worth stopping for.
One of the porters, Kim, has a knack for finding a very special natural item that is part animal, part plant.
It's called Yarsagumba, a strange caterpillar fungus.
If you can believe it, it's a rare fungus that parasites on the body of a moth caterpillar that lives underground.
Horrifically, the fungus kills the caterpillar and then sprouts from its head.
So why do people want it so badly?
It's a highly sought-after aphrodisiac growing only at high altitudes in Nepal, Bhutan, North-East India, Tibet, and China.
After finding some ourselves — okay, Kim finds it and shows it to us — we continue on our journey, our muddy boots continuing down and then up, over streams and through meadows with grazing buffalo.
At some points we are awash in light, dry green grass flicking our feet.
Other times it's muddy and slippery, and I need to use my hands to lift myself over uneven stones.
Sētō is still with the group, panting alongside us as the group stops for a rest.
He's also with us when the woodland opens up into pure green space, trail lined with short planes meeting terraced landscape.
After five hours we reach our accommodation for the night, the Histan Community Homestay.
When we arrive a man is pounding cement, and he ushers us passed broken concrete and dusty tarp to the homestay reception, where a woman greets us with flower necklaces.
Plates of momos, chow mein and fried rice laced with vegetables are brought out, and the group wolfs the food down hungrily while gazing out over Nilgiri Mountain, Barahasika, Annapurna 1 and Annapurna South.
It's already 3pm, and after seven hours of trekking, we need the calories.
We make sure to save some for Sētō, who happily licks up the leftovers.
My room at the lodge is small and clean, the village perfectly visible from my window, with pine trees growing from the side of the mountain in the background.
In the distance, the peaks appear to get higher and higher.
In the foreground, a woman carries vegetables on her back, switchbacking up the terraced hillside.
Another woman hangs colorful garments on a clothesline, and a man further down works beneath a red open-air roof.
A group of children carrying brightly-colored objects — I can't make out what they are — runs over to what looks like a chicken coop.
Traditional homes with stone steps sit alongside wooden dwellings with tin roofs.
This is the first accommodation that's within a dense walkable village, so I go out to explore.
In fact, the homestay is embedded within the village in such a way that it's hard to tell what is the homestay and what is actually local homes.
The village is built into a mountain slope with stone steps taking you up and down, side to side.
No matter how far I walk, I never feel like I've left the accommodation. It's welcoming.
I hear children laughing and singing in their homes. Some of the women carry garments and vegetables on their heads into the fields, while men chop wood and hammer concrete.
A young girl carries potatoes with her mother, as their small dog tries to jump up into the basket. They laugh and swat the dog away.
Many homes have goats, chickens and roosters, too.
As I pass, each person turns to say "namaste" — the word locals use when greeting foreigners — with a smile.
The sight is so much different from anything I'd ever see in New York — where people grab their groceries hastily from stores and run back without a glance to their modern apartments — and I feel so thankful to be able to travel so far away to experience this.
Hiking In Nepal Through Quirky Scenery [Day 5]
We wake up to the sound of roosters crowing and dogs barking.
It's the final day of the Mohare Danda Trek, and while I'm admittedly excited to get back to Pokhara and have my own bathroom, I'm also sad to be leaving.
I try not to think about the future, though, and instead stay focused on the present.
Today's final portion of the trek involves three hours straight downhill to reach our destination:
Baisari.
The end of our five-day Mohare Danda hike.
Even on Day #5, Sētō barrels out of the breakfast room to join us for our final day of hiking.
He happily runs ahead, waiting for us slow humans to catch up.
The clouds are still at eye-level, reminding us how high up we are.
Despite the fact we're well into our descent, we're still standing at around 1,903 meters.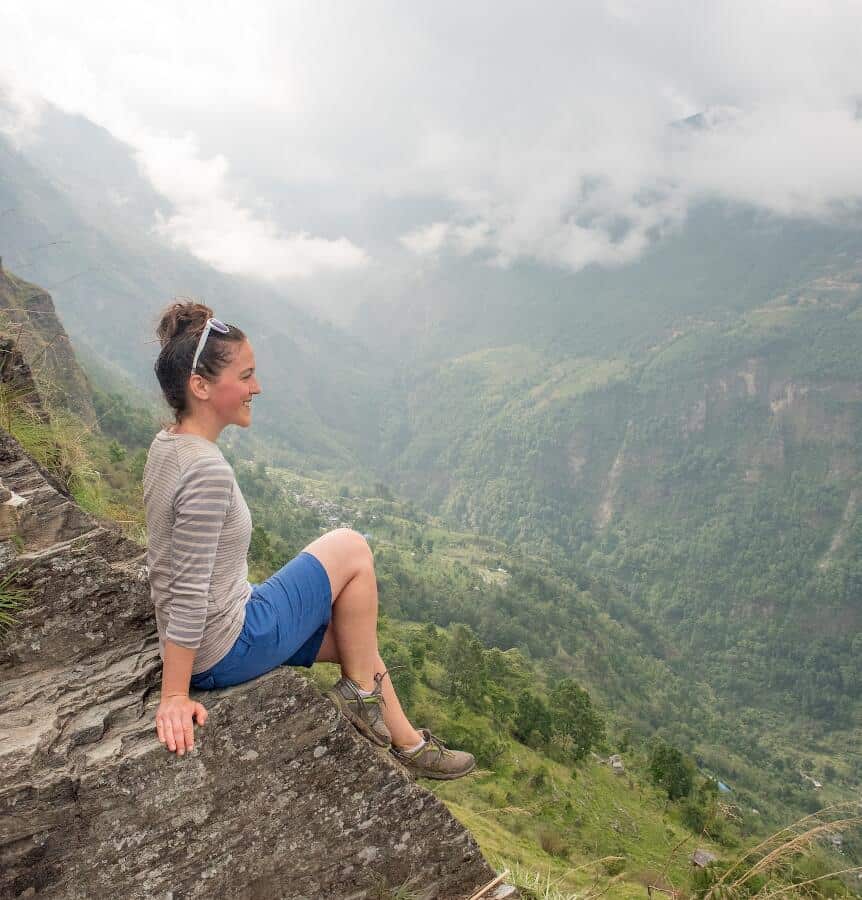 At one point, we find ourselves walking through a bizarre landscape straight out of a Dr. Seuss novel.
Actually, it reminds me of hiking in California's Joshua Tree National Park, as the Nepalese fig trees beautifully contort like graceful circus performers.
There comes a point where we find ourselves trekking down through terraced gardens, passing local farmers as we go. Our group waves and says "namaste".
We trek through tall corn stalks, peanut plants, and fruit trees, taking in the views and getting closer to our destination.
While it feels good to walk down because it means we're almost done, I'm also aware that with every step we take toward the road we are losing what we've gained.
We are leaving behind our hard work and exchanging it for home.
It hurts physically and challenges me mentally. I want to savor what I've earned for longer, stay at eye-level with those snow-capped peaks.
But it's time to go.
Finally, we come to a suspension bridge shakily swaying over the Kali Ghandaki River, letting us know we've reached the end.
Sētō has stayed with us until the very end, though the dog that once ran ahead now stares at the wobbly structure with trepidation.
With tears in our eyes, we hug the pup and continue over the river.
Sētō runs to the shore below, trying to figure out a safe way to cross, but there is none. He must now find another group to head back into the Annapurna mountains with.
We wave to him from across the river, as if he might know what that gesture means.
There is a belief in Nepal:
When a dog joins a group of trekkers, it is the soul of a sacred monk accompanying hikers with good karma to protect them.
As spirits can't cross borders, it makes total sense why Sētō can't cross the bridge or the river.
We try not to miss him too much.
It's only been a few days, but it feels like he is ours; a family pet.
Just like the mountains felt like they were ours.
That's what happens when you wake up staring at the world's highest peaks instead of into your neighbor's Upper East Side bedroom.
As is common with physically demanding journeys that are so internally rewarding — like hiking the Inca Trail in Peru and summitting La Concepcion Volcano in Nicaragua — I forget the pain and vow to come back.
I forget that for five days I thought my legs might crumble out from under me.
I forget throwing up on the trail and at homestays without flushing toilets.
I forget waking up with calves so tight I could barely walk.
I forget the pain and the challenges and focus instead on gratitude — because there is so much to be thankful for.
I've hiked among giants, lived with locals, seen animals not present in New York and explored remote parts of Nepal not accessible by car.
I've tested my limits and learned what I'm truly capable of, something to be grateful for in itself.
Once you trek in Nepal's Annapurna Himalayas those mountains will continue calling. And I can't wait to answer that call and return.
About 10 minutes into the flight back to Kathmandu from Pokhara, I see a truly crazy sight:
The peak of Manaslu jutting out from above the clouds.
It's eye level with me and feels close enough to touch, the perfect ending to the perfect trek in Nepal.
What Are The Accommodations Like On Mohare Danda Trail?
Very basic!
The Mohare Danda Trek is newer and only has a few very basic accommodations.
Many times there is a shared bathroom with a bucket flush.
Often there is no shower and sometimes even no sink.
On the third night of the trek, spiders came out of large gaps in the brick walls of my room.
It is totally doable — and even enjoyable — as long as you can handle being not-so-pampered for a few nights.
Visiting Nepal: Quick Guide
Kathmandu
Kathmandu Hotel: Traditional Comfort. I stayed at and visited numerous hotels in Kathmandu, and this property was hands down the best. Incredible hospitality, clean and comfortable rooms, a refillable water station, a delicious breakfast and more. I also really looked forward to my morning latte — creative foam art included!
kar.ma coffee @ HUB. This adorable sustainable cafe sells delicious coffee and wellness drinks alongside nutritious food fare in a chic minimalist space. Bonus: They host a pay-what-you-wish cooking class, too. Momos, anyone?
Thamal Cave Kitchen. I spent a lovely afternoon here sipping Sherpa beers and trying a variety of momos, with fillings ranging from spicy buffalo to vegetarian and beyond. If you like spicy food, they don't hold back, especially in the peanut salad (badam sadeko).
Kathmandu Breakfast Tour. This incredible morning food tour is hosted by Backstreet Academy, a sustainable tour company operating around Asia. You'll try Nepalese breakfast foods you've never heard of and experience the city as it wakes up. Not a morning person? They've also got an afternoon Secret Food Tour that will show you hidden food spots in Kathmandu.
Here is how to have an adventurous + sustainable trip to #Nepal! #thisissustainable
Pokhara
Pokhara Hotel: Waterfront Resort. While about a 15-minute walk from the main action of the city, you'll be a quiet spot right on the water. Have a drink by the pool while gazing out over Phewa Lake.
OR2K. This hip Middle Eastern vegetarian restaurant is adorable. Take off your shoes before stepping inside and plop down on a comfortable cushion. Their Buddha Bowls are delicious, as is the hummus, falafel, and giant fresh salads. Pair with a booze-free lassi or a cocktail.
The Lemon Tree. This eatery features a relaxed open-air rooftop from which to savor tofu burgers, pasta, wraps and even cocktails (Mai Tai, anyone?). If you're a vegetarian there are many great options, though there is plenty of meat, as well.
Paragliding. While there are numerous Nepal adventures to be had in Pokhara, I saw the footage from another woman's paragliding experience and was bummed I didn't book this myself. While I loved the Zipflyer, it was a very quick ride.
Sustainable Tourism In Nepal
There are a lot of sustainable tour operators in Nepal; however, there are also many selling unethical tours like elephant riding.
When it comes to trekking in Nepal, you also need to be careful.
What I loved about doing the Mohare Danda Trek, and a big reason I chose it, is that it is a newer route and lesser-done.
This allows for less of a negative impact on the earth, as well as the ability to spread money to other Nepal communities.
Additionally, be aware that you should not give money to begging children, which I encountered a little bit on the Mohare Danda trail. This just fuels a negative cycle and keeps these kids from going to school and getting jobs.
Other simple things you can do to travel more sustainably in Nepal:
1. Ask for no straw. There are a lot of delicious frozen and smoothie drinks in Nepal — like delicious lassis — that may be more enjoyable with a straw. Personally, I travel with a metal FinalStraw.
2. Dress appropriately. Nepal is a conservative country, and this goes for dress, too. As a female, I always made sure my shoulders and knees were covered. I did this when hiking too, especially as the Mohare Danda Trek takes you through local communities. Speakeasy Supply Co makes hidden-pocket scarves for all seasons that can come in handy (click here).
3. Really consider whether climbing Mountain Everest is ethical right now. Nepal has increased the number of permits given out, leading to a record number of climbers — mainly less-experienced climbers with money. With this, the death toll has risen. Take a look at this article — especially the photo — and you may see summitting Everest isn't the experience you'd pictured anyway, at least not right now in 2019. If you do go, take steps to make sure you're helping the local communities living around Everest.
4. Ask before taking someone's photo. According to my guide, Gopal, young people usually don't mind but sometimes older locals do. Either way, ask before snapping.
5. Don't give to begging children. I mentioned this above, but it's worth discussing again. You may have ethical intentions, but giving isn't always good. When you give money or goodies to a begging child, you essentially show them that they don't need an education or to empower themselves to make a living. In fact, this practice of giving to begging children simply fuels the practice to continue. If you'd like to help, donate to a local charity or NGO focused on empowering Nepalese children.
6. Spread the wealth. Instead of sticking to popular Nepal attractions, consider mixing in some lesser-explored experiences, too. The Mohare Danda is a great start, as it's a newer and more off-the-beaten-path option. By doing it, you'll immerse yourself in stunning Nepal scenery while also putting dollars into communities that don't see a lot of tourism.
Nepal Trekking Packing List
This will vary depending on when you trek, but for a summer trek this list will be very helpful. Note you can pack your own supplies or purchase new gear in Kathmandu and Pokhara.
Sleeping bag. My guide helped me rent mine in Pokhara for about $6 for the five-day trek.
Toilet paper. Always have this on you. Not all of your accommodations will have it. I also found it handy to carry in Kathmandu and Pokhara.
Non-thong underwear. Gross, but because you'll encounter a lot of restrooms without toilet paper you'll be much happier with full underwear.
Medicine. I recommend bandaids and tiger balm — helpful for headaches, body aches and as a leech repellent — as well as medications for headache, fever, nausea, and diarrhea.
Hand sanitizer. There often won't be a place to wash your hands. A few of the accommodations didn't even have sinks. I like these that clip onto your backpack.
Refreshing towelettes. Again, there are often no showers. It's nice to have these to clean yourself a bit.
Electrolyte tablets. When you feel mentally and physically out of it, add these to your water bottle.
A backpack with adjustable straps. While you can hire a porter to carry your sleeping back and other items you won't need while hiking, you'll want a comfortable backpack for carrying your water, camera, layers and more. The one I linked to here is also great because it's water resistant. I recommend purchasing a backpack before your trip. Luckily, there are many affordable hiking backpacks for under $100 that are high-quality!
A rain poncho. I recommend a long one like the one linked here so it can cover your backpack.
Layers. I packed four t-shirts for hiking (plus I wore one to the hike), two shorts, a pair of rainproof trekking pants, a pair of longer pants for camp, a long-sleeve moisture-wicking shirt, a warm fleece (for when you sleep above 3,000 meters) and a scarf. It was pretty warm aside for the one night at Mohare Danda, where I was very thankful for the fleece and my sleeping bag.
Hiking shoes. Bring what you are comfortable in, though keep in mind ankle support is helpful.
Sandals or slippers. To change into after hiking.
Toiletries.
A book or Kindle. There is a lot of downtime, so having a book or a journal — maybe even with some travel prompts — is helpful.
Not sure what to pack when #trekking in #Nepal? This post + packing list can help!
Nepal Trekking Tips
Don't expect luxury. You should be ready to go with the flow and get out of your comfort zone.
Bring plenty of medication and money, as there are no ATMs or stores.
You can purchase bottled water along the way, though there are also places to refill at times if you have a water purifying bottle. I brought my LifeStraw bottle.
Don't buy new hiking boots or you'll get blisters. Instead, wear what you're comfortable in — though note ankle support is helpful.
Avoid monsoon season. I went during this time and Day #4 of the trek was slippery and filled with leeches. Many, many, many leeches.
Additional Pokhara Trekking Options
For your reference, here is a list of other hiking trips near Pokhara:
As you can see, there are numerous options for trekking near Pokhara and around Annapurna.
Have you done the Mohare Danda Trek, a stunning Annapurna Region trekking route, or another Nepal adventure?
The following two tabs change content below.
Jessica Festa
Jessica Festa is the editor of Epicure & Culture as well as
Jessie on a Journey
. She enjoys getting lost in new cities and having experiences you don't read about in guidebooks. Some of her favorite travel experiences have been teaching English in Thailand, trekking her way through South America, backpacking Europe solo, road tripping through Australia, agritouring through Tuscany, and volunteering in Ghana.
Latest posts by Jessica Festa (see all)